Contact The A1 Hot Tub Guy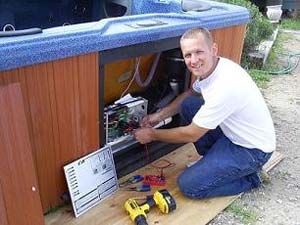 A1 Hot Tub Guy
Servicing All makes. All models.
All Northeast Ohio.
For 20 years!
Your hot tub should be your source of relaxation, don't let it cause you stress!
Let us help you with your spa repair! At A1 Hot Tub Guy, we've been in the business for 20 years – and we've learned a thing or two along the way!
Our ability to fix ALL makes and models is what makes us stand out from other hot tub repair services.
Plus, we keep most parts in stock, so when you call, we're ready!
Serving the Akron, Canton, Cleveland and Youngstown area
We're proud to remain a family-owned and operated business, and we want you to feel like one of us. That's why we come to you to complete your spa service and repair as quickly and efficiently as possible, so you can get back to enjoying it!
Contact us today and see what our hot tub repair service can do for you!
Call us: (330) 630 – 0578
Get In Touch!
330.630.0578
1196 Newton Street
Tallmadge, OH 44278
Call us now to set up your appointment!
We'll get your hot tub, spa, or sauna working like it's brand new!