Youngstown Spa Repair by A1 Hot Tub Guy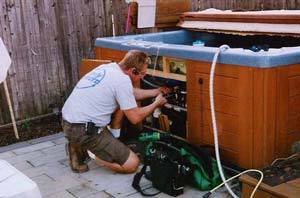 As a hot tub owner in the Youngstown area, you need your spa to be working for the cold winter seasons (and spring, and fall, too!) If it's out of order now, don't wait any longer to call for a spa repair!
Contact A1 Hot Tub Guy today – we specialize in hot tub service and repair in the Youngstown area, and we come to you! We keep most parts in stock so we can perform your spa repairs on the spot. From patching leaks to more advanced hot tub pump repair, we can do it – on all makes and models!