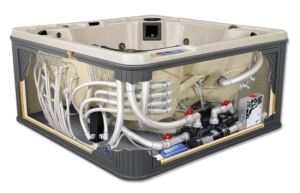 A1 Hot Tub Guy Spa repair services
Is your hot tub causing you problems? Don't give up on it just yet! Our technicians at A1 Hot Tub Guy will perform troubleshooting tests on your hot tub or spa to figure out which of our hot tub repair services will benefit you the most.
From there, we can fix just about anything – hot tub pump repairs, spa leak repairs … we handle everything from minor to advanced hot spa repairs!
Local Ohio hot tub repairs
When you contact us we come to you for your hot tub repair. We'll work to fix your problem quickly, with a solution that will last. As much as we love to help, we don't want you to have to call us again!
Trust in us: the technicians of A1 Hot Tub Guy are one of only four teams between Toledo and Columbus able to perform spa repair services on all makes and models.